Pearl Yacht 100% polyester embroidery thread is made of a newly developed raw material through a state-of-the-art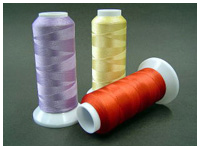 manufacturing technology. It offers advantages of low elongation that eliminates looping and puckering, as well as of little or no tension adjustment to be made when switching from rayon thread. Also runs very smoothly with reduced down time by thread breakage. Its extreme colour fastness and high tensile strength make it ideal for use on sportswear, workwear, safety wear and simiar garments which are subject to harsh laundering. Dye fast to chlorine bleaching. It can also be used for stone and chemical washing applications. Available in two different sizes and 330 glossy colours including six fluorescent colours.
120d/2(#40) is the most standard size thread for a wide range of machine embroidery applications. Available on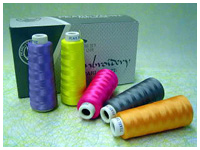 2,000 meter kingspools.
75d/2(#60) is the thinnest thread suitable for highly detailed designs and name embroidery. Available on 3,000 meter kingspools.
SuperTEC is the first version of Pearl Yacht 120/2 denier or #40 weight polyester thread. The very raw material that it is made of have gone out of production, in spite of its excellent quality. All 333 colours including 6 fluorescents are still available from stock. on 2,000 meter cones. 5,000 meter kingspools are also in stock in various colours.